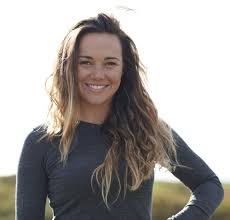 Francesca 'Frankie' PIOLI joined the team at the beginning of 2019, having recently moved to Chamonix from Val d'Isere.
She is a passionate physiotherapist and sportswoman who started her academic training after developing a keen interest in biomechanics while competing as a youth.
As a youth, she competed at a National and Interantional level in a range of sports, namely skiing, hockey and fencing.
Frankie combined her physiotherapy studies in Wales with seasons in the Alps allowing her to pursue her main sports of surfing and skiing.
These sports helped her to develop her technical understanding and appreciation of physiology and biomechanics, undoubtably helping to complete her Bachelor of Science degree in Physiotherapy with honours.
During her career, she has treated many elite athletes, including an Olympic gold medallist, professional mountain bikers and a GB triathlete
ON THE ROAD:
During the last winter season, Frankie worked with the Swiss Free-ski Big-air and Slopestyle National team.
She travelled the World with the team, attending all FIS and X-Games events, aswell as all training camps.
As Lead Physiotherapist, it was her role to ensure that any signs of injury were treated efficiently and that athletes were ready to perform at all times.
She also became efficient in concussion screening and management, acute trauma management, aswell as implementing return to snow protocols.
The team had multiple podium wins and won the overall Globe award for the best team in the Big Air discipline.
Since graduating in 2014, Frankie worked in a busy rural hospital in Wales treating a variety of complex patients.
A portion of that work was treating sporting injuries, often road cycling, mountain biking and fellow surfers. This work fuelled her passion for sports related injuries and the desire to return to the mountains.
So, Frankie moved to the Alps in 2017 and lived in Val d'Isere. Here she started specialising in the prevention and treatment of musculoskeletal injury before her move to Chamonix in the summer 2018.
INJURY PREVENTION:
"I try to take a holistic approach to injury prevention and rehabilitation believing that the emotional and psychological elements of physicality have an important bearing on healing." says Frankie.
Indeed over the years, she has seen the benefits of using Pilates and Yoga as an injury prevention tool.
During her physiotherapy training, Frankie developed a keen interest in Pilates, both to support herself physically and to contribute to her physiotherapy skills.
She has since completed the Australian Physiotherapy & Pilates Institution (APPI) levels 1,2 & 3 and incorporates the practice into her therapy to help her patients recover and stay injury free.
And it led her to recently complete her Yoga teacher training with the view to implement this practice into her therapy where appropriate.
Frankie's time at the clinic now consists of treating a wide variety of patients again.
From solving those chronic long-term persistent injuries to the acute management, from treating professionals to non-professionals and people of all ages.
She absolutely loves to help where she can and ultimately to help people achieve their goals, and get back on the track they want to be.
"I like to think that my background of competing in a variety of sports, treating some of the most elite men and women in their sports, combined with my years of experience in a busy hospital clinical setting has equipped me with a good awareness of external factors and barriers to peoples' success, and a Mary Poppins size bag of skills to deal with a variety of clinical conditions."
QUALIFICATIONS:
Physiotherapist BSc (Hons) Cardiff University, cohort 2011
Sports massage diploma level 3 | ITEC
Pilates mat-work training levels 1,2,3 | Australian institution of Physiotherapy & Pilates
Sports trauma management | LUBAS 2019
Yoga Instructor | Marisa Yoga 2020
More about Francesca 'Frankie' PIOLI
Read more about Frankie via her Website or Facebook page