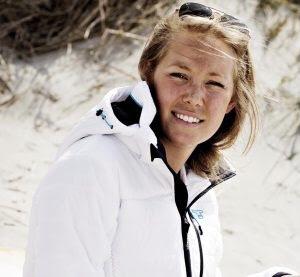 Malin joined our team in early 2017 after qualifying as a physiotherapist from the Sahlgrenska Academy in Gothenburg, Sweden. Upon qualification and moving to Chamonix, she began studying again for a Masters degree in physiotherapy, focussing on sports physiology and psychology. To complete her degree, she currently plans on writing her thesis in collaboration with La Clinique du Sport, revolving around sports and children.
If that's not enough, she is currently studying for a higher degree within the 'Orthopaedic Medicine International' having completed the first two levels for the shoulder and lumbar spine.
a very active lifestyle
Originally from Gothenburg on the west coast of Sweden, Malin spent six years in Germany with her family where she learned to ski and first found her passion for the mountains.
She has always loved to have a very active lifestyle and as a child, tennis was her main sport. Tennis camps and competitions were part of growing up and led onto her qualifying as a tennis trainer and has since worked for more than 15 years teaching all age groups and abilities. Along with being a tennis instructor she also spent her summers sailing, competing in Match Racing and coaching young sailors.
To be outside in nature is very important
After an accident where both her tennis career and schooling had to be put on hold, her Chamonix adventure started when she came out to visit her best-friend for rehab. This led to a season, a second season and then a third. The rest is history …
To be outside in nature is very important for Malin and to be able to do that in such a wonderful setting, together with amazing friends makes it even better! She says "there is a wide variety of sports depending on weather and how you feel on the day! During the summer, road and mountain biking, tennis, hiking and climbing. During the winter season a combination of skiing, ski touring and cross-country skiing."
She believes the biggest difference between herself and the other practitioners in the Clinic is that she is not a natural born runner "because I like my knees!" she says; however we'll do our best to add trail running to her list of hobbies!
Qualifications
OMK and Fysioterapeut (FT Sweden)
BMSc and BSc physiotherapy
Orthopaedic Medicine International – Level 1 and 2, Sport massage diploma