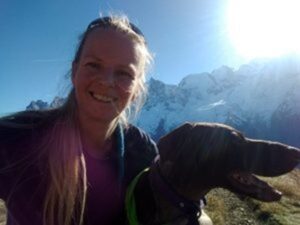 Janie trained in Physiotherapy at the University of Coventry, graduating in 2005.  A keen sportswoman all her life, Janie was a successful competitive runner in the UK, completing a marathon in less than three hours and 10km in under 40 minutes. In 1991 she did her first ski season and became a self-confessed 'ski-addict' and the reason for her relocation to France.
She can sympathies and support patients
She has done countless off-piste descents and ski-mountaineering summits, including Mont Blanc, but having this adventurous lifestyle can also have its pitfalls, as Janie knows all too well. In 2001 at the peak of her fitness and enjoyment, she suffered a severe back injury in a skiing accident and it took her more than a year to get back into action. Unfortunately she also suffered another accident at the end of the 2013 winter season, rupturing her anterior cruciate ligament (ACL) and underwent re-constructive surgery five weeks later. Following an intensive rehab programme Janie was back on skis for the first week of the following ski season and she completed the 2014 Cross du Mont Blanc, a 23km trail race with over 1600m of height gain.
Having this personal experience she can sympathies and support patients leading busy lives that need an intuitive rehabilitation programme that they can follow and maintain, allowing them to return to their lifestyle and sport stronger and more confident than before.  Janie continues to train with and support patients who've experienced similar injuries and the 'KneeFit' team as it's known in the clinic continues to achieve fantastic results.
Janie also has expertise in women's health and looks after many women pre and post pregnancy, from massage to developing abdominal exercise programmes she can support a patient throughout the pregnancy.
In 2023, she also completed a qualification in dry needling, and can now offer that service to her patients.
 "delighted to be part of such an enthusiastic and dedicated team"
In the past she has worked with children's summer camps teaching them to sail and also holds a parapente pilot's licence, her hobbies include yoga, rock-climbing, cycling and trail running. But these endurance events are nothing compared to running around after her young daughter and new puppy. She has been with La Clinique du Sport since 2011 and as she says "delighted to be part of such an enthusiastic and dedicated team".