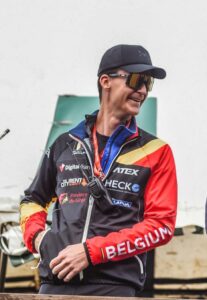 Performance is the focus
Clement joined the team in July 2023. At the moment splits his time between the clinic and working away with the Belgian national biathlon team. As Head Coach, he is using his skills in physical preparation, planning, management and logistics in the road to the Winter Olympics in Milano-Cortina 2026.
Clement grew up in Chamonix, with alpine sports and where being outdoors became a vital necessity. In this competitive valley he practiced a multitude of activities, however, it was in Nordic skiing that Clement excelled. 
"My genes had something to do with it! My father was an Olympian in biathlon, and went onto head the French system in which I emerged years later."
Between 2011 and 2018, he competed for the French national team at International competitions, achieving World medals and multiple podium finishes. 
Sadly, a series of setbacks cut short his Olympic goals and ended his competition at the highest level. He therefore moved his concentration onto his studies and enrolled at Grenoble University, graduating with a coaching degree and a state diploma as a Nordic ski instructor.
"But that wasn't enough for me !"
Probably as a result of his previous injuries, he realised that a career in physiotherapy would complement his interest in the physiology of exercise and passion for performance. 
After graduating as a physiotherapist he took a Master's degree in health engineering, to develop his methodological skills. And, no sooner than graduating, found himself Head Coach of the Belgian national biathlon team. 
With performance the focus and using his skills as a physiotherapist for injury prevention, the Olympic project was finally taking shape. 
On joining the Chamonix team he said "I'm delighted to be able to help people who are looking for a performance-oriented approach to their rehabilitation. My dream is to be able to influence athletes at every stage of their development!!"