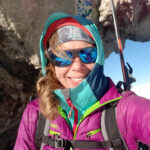 Anna qualified as a dietitian from the Sahlgrenska Academy in Gothenburg, Sweden in 2012 and has worked clinically at Karolinska University Hospital in Stockholm, Sweden there specialising in nutrition related to kidney disease, cardiovascular disease and allergies.
She also has a large interest in sports nutrition and has added courses in this field on advanced level after graduating. Living in the mountains and being a passionate athlete herself, this knowledge comes in handy as nutrition is a vital part in any kind of mountain activity, whether it is on a professional or recreational level.
Anna has a great passion for food and have spent many years working in the restaurant industry alongside her studies, and also in France before acquiring a licence to practice as a dietitian. She thinks that the combination of a scientific and culinary approach to food and nutrition is an advantage as food is such major part of our everyday lives, and eating healthy has to be something that we like and enjoy, and not just a necessary evil to reach a distant goal.
endless opportunities for outdoor activities
Anna came to Chamonix the first time in 2006 to widen her horizon and explore the skiing in the Alps before deciding what to do for University. This became such a passion that it is now, 15 years later, still a major part of her life.
And, and after trying to go back to Sweden a few times for studies, then work, she now lives permanently in Chamonix and enjoys the convenience of having the mountains with their amazing backdrop and endless opportunities for outdoor activities just outside the front door.
She is an experienced off-piste skier and ski-tourer in the winter. Whilst in the summer her free time is spent mountain biking, climbing or hiking (often side-tracked into mushroom or blueberry picking).